With winter weather upon us, ice fishing is seeing a resurgence in popularity.  An extremely unique way of fishing, ice fishing isn't as hard as most people think.  With a little bit of safety, the proper gear, and determination, anyone can get out onto a frozen lake and bring home the big one.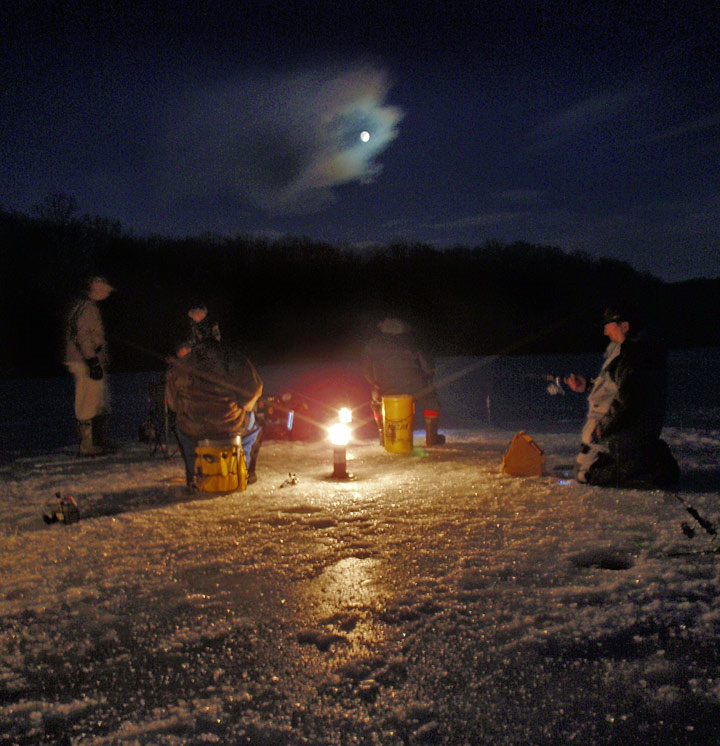 Before you think about hitting the ice, know that safety is the biggest concern.  Ice fishing can be dangerous and deadly, but it doesn't have to be.  To safely ice fish, you need at least four inches of solid ice.  If the ice isn't that thick, don't risk fishing on it, even if it feels solid and safe.  Many anglers will take snowmobiles and four wheelers onto the ice once it is eight to twelve inches thick, though this can be a recipe for disaster.  Always err on the side of caution.  If there are no other anglers on the lake, drill test holes as you move outwards from the shore, ensuring proper ice thickness.  Finally, never go alone.  Always go fishing with at least one other friend.
With the safety basics down, the next step into a successful excursion onto the ice is proper gear.  The idea of gearing up for ice fishing is the biggest turn off for potential anglers, but it doesn't have to be.  Essential gear that you may not have on hand are an auger, ice scoop, and a sled.  Augers come in a variety of models.  Hand crank models are cheap, but require a lot of work to drill proper holes.  Power models are more expensive, starting at approximately $300, but are much easier to use.  If you're unsure if ice fishing is for you, try finding a friend or fellow angler who already has a power auger.  The rest of the gear is fairly cheap.  It's recommended to buy cheap ice fishing poles, though regular poles will work in a pinch.  Ice cleats can make walking on frozen lakes a breeze while five gallon buckets can help you store all of your gear.  Invest in a comfortable chair (or just use your bucket!) and rod holders.  Be sure to bundle up with different layers of clothing depending on the weather.
Now that you know the safety basics and the gear needed, you're ready to go out and fish!  The most commonly fished species are trout and perch.  Once you've drilled your hole, sink your lure to the bottom and reel it up a couple of feet while jigging your lure occasionally.  Be sure to check your state's laws to see how many rods you can have in the lake at once.  Moving around, messing with your poles, and monitoring them is often enough to keep you warm on even the most frigid days.
If you have any experience fishing, you know that some days are just a strikeout.  No matter what you do, you can't seem to get a bite.  Ice fishing is no different.  It's important to recognize this while ice fishing, possibly even more than other types of fishing.  Sitting out on a frozen lake, in harsh weather conditions, can sap your spirits.  Keep hitting the ice and soon you'll be taking home dinner in no time!