It is not hard to find breathtaking natural wonders that will blow your mind away in Iceland. It seems that no matter where you look there is a photo opportunity. To tell the truth it's quite easy to understand that, especially considering that you have everything from the Geysir, caves, black beaches, aeroplane crash sites, and waterfalls.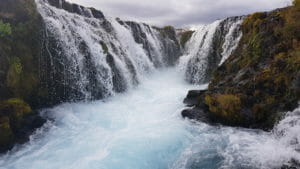 Some waterfalls are better known than others, such as Gullfoss, Seljalandsfoss, Skogafoss and
Detifoss. And even though they are incredible, sometimes the lesser known ones can be just as impressive if not even more breathtaking.
This is where Bruarfoss comes in. Bruarfoss is a small waterfall right on the Golden Circle.
What it lacks in size makes up in the jaw-droppingly beautiful blue water.
In fact, Bruarfoss is one of Iceland's bluest waterfalls.
The blue colour comes from the glaciers which rub against the Rock beneath them which in turn creates a very fine powder. This rock powder ends up in the water and gives the waterfall its distinctive blue colour.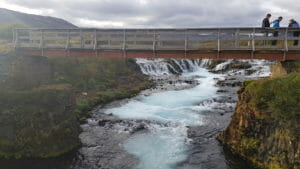 The best thing about the waterfall is that it's not a major tourist attraction. In fact, during some of the busiest times in Iceland, you can find yourself appreciating this stunning waterfall all by yourself.
When visiting Bruarfoss make sure to bring a camera, some shoes you don't mind to get dirty,
and a sense of Adventure as you will be walking through a small Forest to your destination.Once there you will be greeted by a small Bridge and the waterfall itself.
Now it can be a bit difficult to find the Waterfalls, so here are a few simple directions to get you there nice and easy.
| | Title | Category | Address | Description |
| --- | --- | --- | --- | --- |
| | BruarFoss | | 64.26429199595577,-20.515733622014523 | Take lots of pictures. This is a beautiful Waterfall. Enjoy!!! |
| | Final Stretch | | 64.26459983116719,-20.513821458444 | You will come across an opening, turn Right and follow the track. Not long after you will start to hear the waterfall. Just follow your ears from this point on |
| | Little Bridge | | 64.26368970924356,-20.512220095843077 | You will know you are in the right area when you come across a small bridge. Walk over it and follow the muddy trail. |
| | Park Your Car | | 64.26297690625913,-20.50837917253375 | Find someone where you can park your car. There are a few spots along the dirt road. Once parked, make your way towards to a fence in the distance. There should be a fair few trails through the forest |
| | Road Access to Bruarfoss | | 64.25200228169348,-20.489565655589104 | Turn onto the dirt road and follow it, Use the Satellite feature on google maps to follow the lines that are marked on the map. It seems that Google didn't track these roads properly. |
Interesting facts:
Bruar means bridge and Foss means waterfall. by combining the two you end up with Bridge falls. Click To Tweet
Make sure to check out other Golden Circle Attractions:
– Church on the Lake (Úlfljótsvatnskirkja)
– Little Canada
– Smoke on water
– Echo Point
– Þingvellir
– Bruarfoss
– Geysir
– Gullfoss
– Bruarhlod
– Hrunalaug
– Kerid
If you found this article helpful make sure to comment below and share it with others that are travelling to Iceland.