One of the most popular Icelandic attractions is the Golden Circle. The Golden Circle consists of the Thingvellir National Park, Geysir and Gullfoss.
On their own, they are incredible places to see but literally within 10-15min from Gullfoss and the Geysir you can come across another spectacular site which in my opinion completes the trip.

Brúarhlöð – The White River Canyon
Bruarhlod (Brúarhlöð) is a narrow canyon lying on the Hvitá River about 3km from Gullfoss (the Golden Waterfall).
Click To Tweet
It takes approximately 10-15 min to get to this destination due to the dirt roads you will have to travel along, but bear in my that these are not the dreaded 'F' roads that most rental car companies warn you about.
It is actually really easy to get to and once you are there, you will find a gate to a large parking area.
Here is how to get to Bruarhlod

One of the best things about this area is the incredibly chalky looking water wrapping itself around stone pillars that stick out of the water.
The pillars are called Breccias (Hyaloclastite).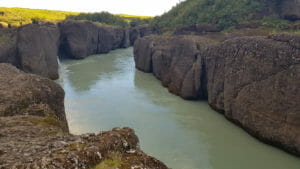 To get to Bruarhlod (Brúarhlöð) you will most likely pass the bridge which was built in 1959.
This is bridge number 3. The other 2 were built in 1929 and 1930.
both of them got washed away by this powerful river. When driving over the new bridge take a moment to consider how powerful and ferocious the river must have been to wash them away.
Most travel companies that take you around the Golden Circle don't really talk about it, but if you are interested in water rafting you will be able to experience Bruarhlod (Brúarhlöð) from a completely different perspective.Bruarhlod From Above
Bruarhlod From Above
Many Rafting companies travel through this canyon because it is absolutely gorgeous.
To keep the place just as gorgeous for everyone else to see, make sure that you don't jump around on the rocks and observe it from the well-worn tracks that you can find around the pillars.
They will give you an incredible perspective and in fact, tend to have better picture opportunities than being on top of them.
In my opinion, Bruarhlod (Brúarhlöð) is a must addition to the Golden Circle trip and if you have food with you, make it your lunch stop. You won't regret it.
Make sure to check out other Golden Circle Attractions:
– Church on the Lake (Úlfljótsvatnskirkja)
– Little Canada
– Smoke on water
– Echo Point
– Þingvellir
– Bruarfoss
– Geysir
– Gullfoss
– Bruarhlod
– Hrunalaug
– Kerid
If you found this article helpful and ended up going to Bruarhlod (Brúarhlöð) post in the comments below your experience and share it with others on Facebook and twitter by sharing this post.