Ever wondered what it might look like chasing after someone riding downhill on their mountain bike from a drone's perspective?

Well, you don't have to wonder anymore as someone has done it.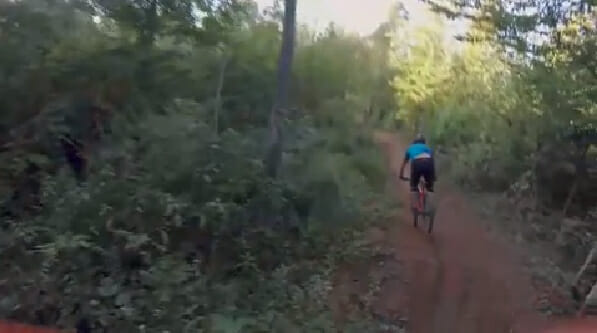 Having an extreme sport such as downhill mountain biking where there is a lot of weaving between tree's, jumps and constant crash hazards seemed like the last place for a drone. But thanks to a few crazy souls who were happy to brave the potential destruction of their drone we now have proof that it is possible.
And let's just say, the angle is amazing. Click To Tweet
Using a small Lux v2 racing quadcopter drone you get the first person view of chasing after a mountain biker at high speed. The biker performs some jumps which with the addition of slow motion makes the video really outstanding.
At one point the drone does hit the dirt but doesn't seemed fazed at all from the bump and continues the chase.
All credit definitely goes to the drone pilot in this one as just the thought of having to keep up with the biker makes me quite nervous. Especially considering that I have already lost a drone and crashed it multiple times.
So I guess the question is, if people are now able to fly drone's in such confined spaces, what will the future of drone footage look like taking into account future technology advancements.
All I can think of is that we are definitely coming into an age where everyone will be able to take breathtaking footage no matter where they are. That actually has me pumped.
If you are a drone pilot and have similar footage we would be super excited to check it out. You can leave a message in the comments below and while you're there don't forget to like mendooutdoors on facebook and share this article.