One of the only places on earth where thousands of people film 3 min of nothing to get 5 seconds of good footage. The one and only Geysir (I mean Strokkur) in Iceland. One of Iceland's major attractions.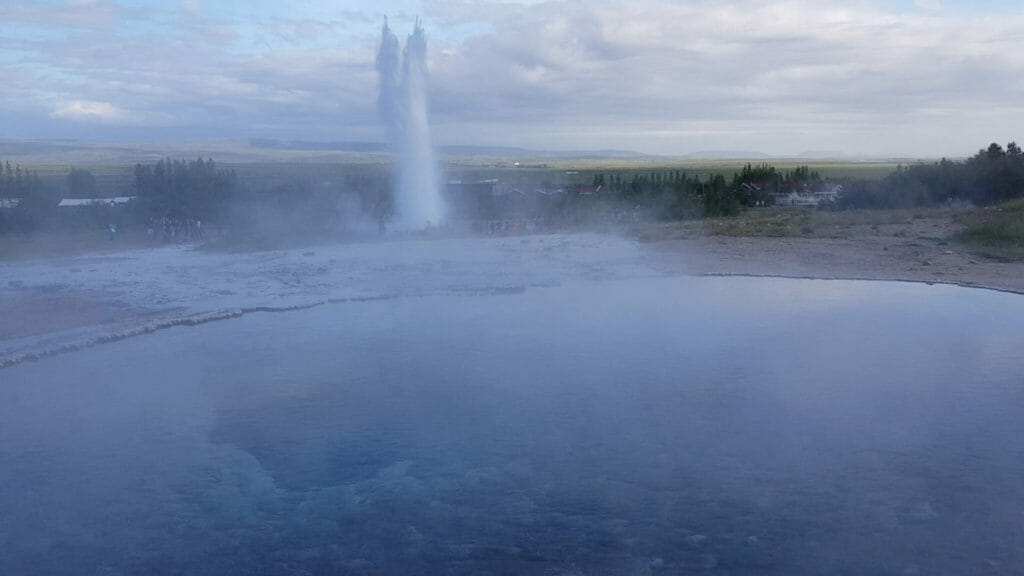 So Iceland is known for its waterfalls. That's correct, but it also is known for its water which defies gravity and shoots up into the heavens. Boiling water to add to that.
The Geysir is famous around the world, in fact, the word Geysir originates because of this Geysir in particular. With many tourist companies advertising to see the Geysir as part of the Golden Circle Tour most people would be hard-pressed to find out that they aren't actually going to see the famous Geysir erupt.
This being because it only erupts around 3 times a day. On the other hand, most people will be pleasantly surprised to see Geysir's little brother Strokkur do its thing on a regular basis. Strokkur
erupts approximately every 3-5 min around the clock. Shooting up into the air as high as 30 meters.
Strokkur erupts approximately every 3-5 min around the clock. Shooting up into the air as high as 30 meters.
In all honesty, though I never saw it shoot more than 10-15 meters high. But with that, it's still impressive.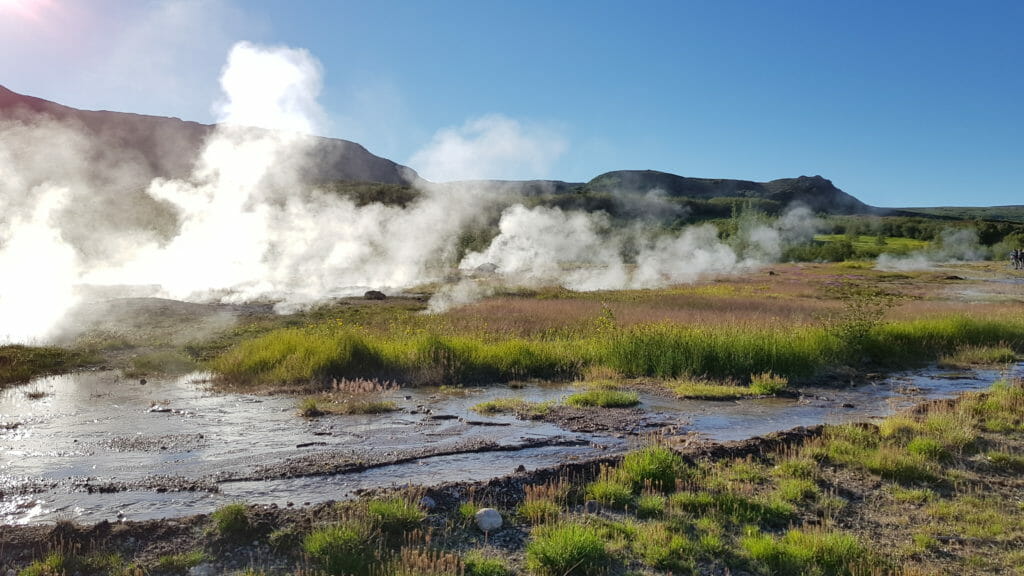 The reason why Strokkur erupts when superheated groundwater, confined at depth, becomes hot enough to blast its way to the surface.
One of my favourite activities around Geysir is to Human watch. Reason being is that you will literally witness hundreds of people doing strange poses for minutes on end. At times they miss the Geysir and have to hold the position for another 3-5min
The Geysir is also a great place to stop for lunch or fill up your car. It's halfway on the Golden Circle tour and even though the food is ridiculously expensive it still is available.
Make sure to check out other Golden Circle Attractions:
– Church on the Lake (Úlfljótsvatnskirkja)
– Little Canada
– Smoke on water
– Echo Point
– Þingvellir
– Bruarfoss
– Geysir
– Gullfoss
– Bruarhlod
– Hrunalaug
– Kerid
Have you been to the Geysir or plan to go there in the near future? Let me know in the comments below and if you found this article helpful make sure to share it.