Gullfoss, One of Iceland's most popular Waterfalls. Smack bang right in the centre of the Golden Circle and only an hour and a half drive from Reykjavik. If you are planning on going to Iceland you have to see this waterfall.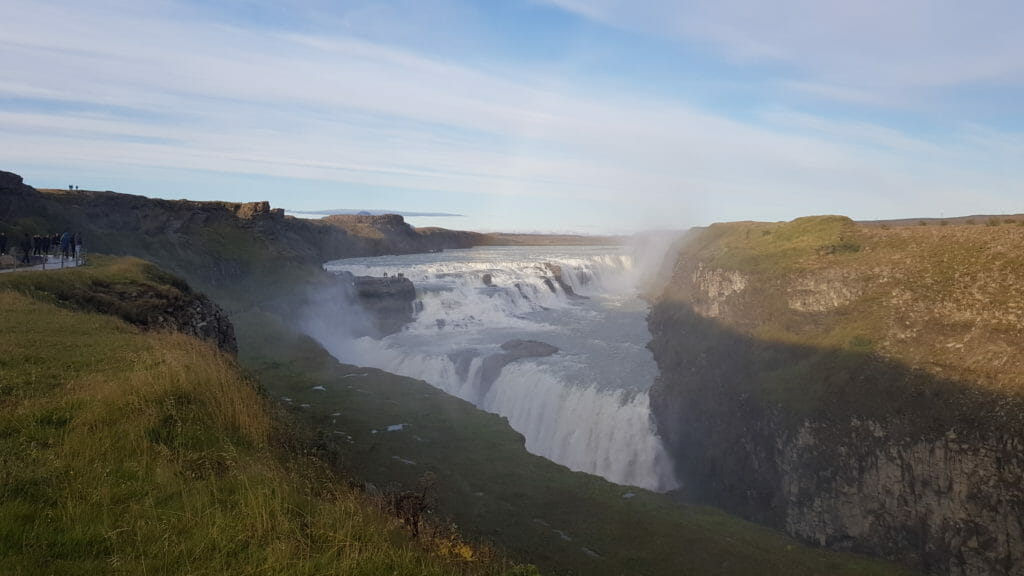 Now before I go on about Gullfoss I want to make it clear that this is not the biggest, nor the most powerful waterfall in Iceland, but what makes it unique is the Golden glow this waterfall gets during sunsets.
The colour of the water to start off isn't the clearest but that is exactly what makes Gullfoss, Gullfoss. During the sunset, the light tends to provide the waterfall with a golden shine and in some cases a famous rainbow hovering the waterfall.
The words Gullfoss actually mean Gold and waterfall which is very appropriate for Gullfoss due to its colour
Click To Tweet
Now there are two stories which explain the name behind the waterfall, one of them is its colour. The second on the other, in my opinion, is exciting.
The story goes that back in the day, there was a very rich man. This man was extremely selfish and did not want to part with his possessions after he passed away.
So to make sure that no one was able to get a hold of his gold, he threw it all into the waterfall. After which it received its name.
Now I don't recommend jumping in to find out if the story is true as there is a 21 m drop and a certain death awaiting anyone who decides to do so.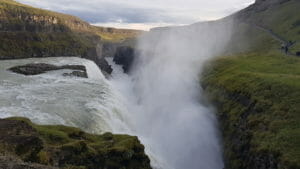 The waterfall is 32m tall taking into consideration its 2 drops, it also has a very impressive 140 m3/s average flow (this is 140000L of water passing a spot every second)
Best time to see it is at sunset, as then you get the golden shine and in many cases the rainbow over the waterfall.
Make sure to check out other Golden Circle Attractions:
– Church on the Lake (Úlfljótsvatnskirkja)
– Little Canada
– Smoke on water
– Echo Point
– Þingvellir
– Bruarfoss
– Geysir
– Gullfoss
– Bruarhlod
– Hrunalaug
– Kerid
If you have been to Gullfoss and have pictures to share post them in the comments below. If you have any questions about Gullfoss also post them in the comments below and as always make sure to share this article with others.