WHOA hey, ma' it's a hole in the ground… all jokes aside, Kerið is actually a very impressive crater and being on the road to Selfoss if you are heading there after a day of doing the Golden Circle it's the perfect stop to wrap up your day.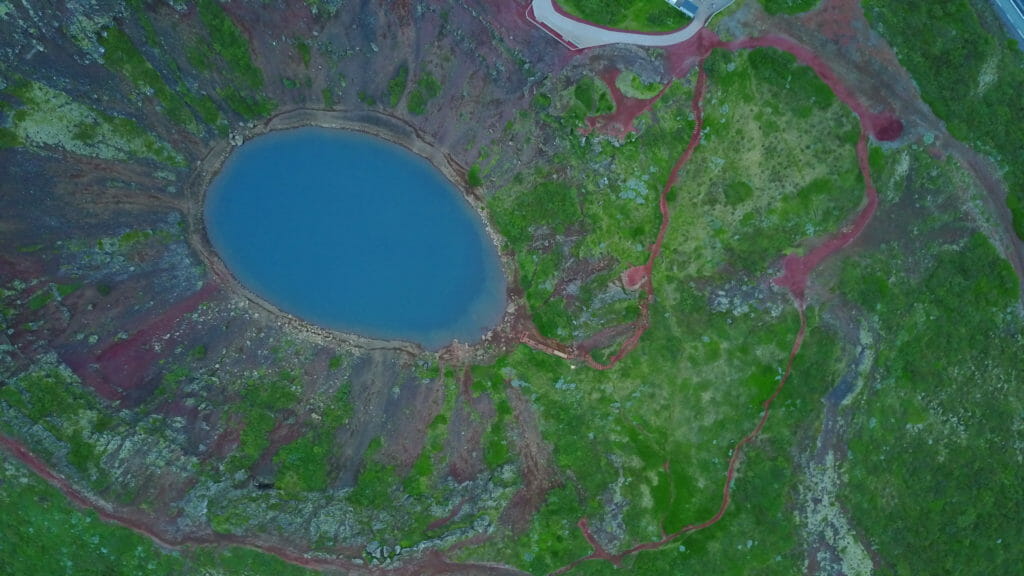 Kerið is approximately 55 m (180 ft) deep, 170 m (560 ft) wide, and 270 m (890 ft) across with a strikingly vivid aquamarine lake at the bottom.
The lake isn't very deep, approximately 7-14m deep depending on rain levels. It receives its colour from the minerals in the soil.
If you are interested in visiting the Kerið you will have to pay an admission fee of 400isk. This is used to look after the place and build paths. After certain times you can visit the crater for free as there is no one there to accept your admission fee.
Make sure to check out other Golden Circle Attractions:
– Church on the Lake (Úlfljótsvatnskirkja)
– Little Canada
– Smoke on water
– Echo Point
– Þingvellir
– Bruarfoss
– Geysir
– Gullfoss
– Bruarhlod
– Hrunalaug
– Kerid
Have you been to Kerið or are you planning on going? Let me know in the comments below. Also if you found this article helpful make sure to share it.