If you have ever owned a boat, canoe, or kayak, you know just how much trouble it can be to transport it to the lake.  Boats require expensive trailers and canoes and kayaks require special mounts to attach them safely to your car or truck.  Once you get to the lake or river you're going to spend the day on, you have to take up precious daylight loading and unloading your boat.  If you find that loading, unloading, and transporting your watercraft is too much of a hassle, consider the K-PAK.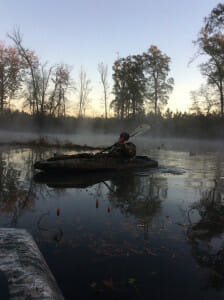 The K-PAK is a new foldable boat from The Folding Boat Company, created by outdoorsman and SAS employee Pete Flood.  The Folding Boat Company was formed after Flood had to walk over two miles to a duck hunting site, all while carrying a heavy canoe over land.  By the time him and his partner reached the site, they were already out of daylight.  Instead of being discouraged, however, he came up with an idea to create a foldable, portable boat that is small and light enough to fit inside of a backpack.
His initial designs were disappointments, but Flood didn't quit there.  He wanted something that was more than just another foldable kayak like so many others on the market.  He wanted a real, foldable boat.  While his first designs made from PVC pipes and skins were functional, they weren't what Flood was looking for.  Flood eventually found a design that he was happy with, using a lightweight aluminum frame and custom Thermal Polyurethane fabrics.  Weighing in at only 21 pounds, Flood's design is light enough to carry to whatever hidden river or lake you need to get to.  It measures just over nine feet in length.  With a little bit of practice, you can assemble the K-PAK in as little as five minutes.  Other comparable kayaks can take over an hour to assemble.  The K-PAK's unique frame allows it to fold over on itself for easy storage.  Once you're ready to set it up, hinges lock the frame in place.  The skin of the boat is already on the frame, so you're ready to go in a fraction of the time compared to other boats.
Included with the K-PAK is its own backpack to carry the boat in.  Flood created the K-PAK with comfort and convenience in mind.  It easily fits in the trunk of even the smallest vehicle, letting you hit the water whenever you have a moment of free time.  Despite being lightweight and comfortable, the Folding Boat Company didn't skimp on durability.  The K-PAK is tough enough to fight with 60 pound halibut and traverse the Alaskan coast.
The K-PAK retails just shy of $900.  Although the price may seem high, it is comparable to many other kayaks, canoes, and small boats on the market today.  Plus, they don't offer the ease of use and convenience the K-PAK offers.  It's an extremely well built piece of equipment perfect for those who have trouble getting their watercraft to their lake of choice.  If you're looking for a boat you can take to the lake on your way home from work, there really isn't a better option than the K-PAK portable boat.